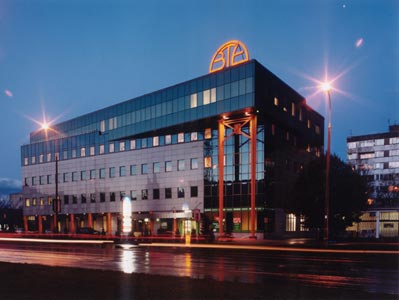 BTA Office Centre is a modern office building located in the Warsaw district of Mokotów.
Address:
02-697 Warszawa,
W. Rzymowskiego 34
Space:
8,528.00 m² total space
6,512 m² lettable space
Parking spaces -75 (ground surface parking spaces) +21 (underground parking spaces)
Description:
location – close vicinity of Galeria Mokotów shopping mall, ca. 5 minutes from Okęcie airport and ca. 10 minutes from the city centre, good public transportation connections
5 ground surface floors + 1 underground floor (parking)
Additional information:
"BTA Office Center" was awarded with a title "The Construction of the year 1998" – first class award in the "Office Buildings" category.
BTA Office Center Investment of the Year 1998

The Building is no longer possessed by the Group – the property was sold in March 2007